Think Green Blog Hop Along
Tips 4 Green has a great blog hop on Fridays! Make sure to hop along!
This blog hop is called the "

Think Green Hop Along

"

. Everyone is welcome to link up and make friends here. The concept is to "think green"!! Spread peace and joy and have a happy day!!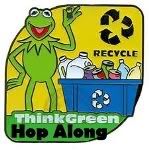 Here are the rules to this link up:
Follow the hostess, Tips 4 Green, of the Green Hop Along (in the first position of each spot).

Grab the Hop Along Button and put it on your blog somewhere, make a post about it, if you would to try to get the word out!!
Follow as many other blogs as you like, it is common courtesy to follow whoever follows you! Please follow at least two or three other blogs in this link up.
Leave a comment on the blog of whoever you are following so that they can follow you back.
HAVE FUN AND THINK GREEN!!
This hop along will close on
12/02/10 at midnight
and will reopen again on each Friday.stions below or in an email to tips4green@gmail.com. Thanks!